| | | |
| --- | --- | --- |
| | Why Designer Sunglasses Are So Popular | |
People often wonder "
Why are Designer Sunglasses so popular
?" One of the main reasons designer sunglasses are so popular is all of the advertising that is in magazines, on television and the internet. Many of these advertisments show popular Hollywood stars wearing the latest, trendiest designer sunglasses. These types of advertisements reach all audiences but are mainly geared towards the younger generations. Young people are easily influenced by what their favorite celebrity is doing, saying and wearing.
Until the last few years these highly popular designer items were unatainable for the average person making these items just that much more desirable. But now you can find many of the high end designers like Chanel, Gucci, Louis Vuitton and many others in large shopping malls and even in department stores like Nordstrom.
Making these desinger sunglasses easier to get did not make them any less popular, if anything it has raised the popularity of these items. Now that people actually see and try on the styles the stars are wearing, they really want to own their own designer sunglasses. But in this tight economy not very many of us can afford the price tags that are attached to those designer name brands. So what is the solution for the average person that wants to look like a million dollars without paying it?
Wholesale Designer Sunglasses
are a great alternative. People also think of these as being
Replica Sunglasses
.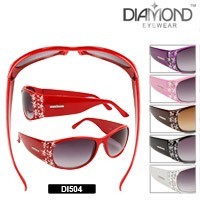 Diamond Eyewear Sunglasses DI504
$35.00 USD

dozen